Firstly nClone is a great disk imaging tool, once installed on your nas you can boot your PC and ghost/image the hdds from and to it.

So Synology released a new DSM and with it came new security. As per every previous version the great nClone utility that hasn't seen an update since 2012 breaks, and it usually takes me a few days to get it working again. With DSM 6 I couldn't get it to work. Luckily enough a french Synology forum user starlst has changed the code to get it working again. (Thanks starlst.).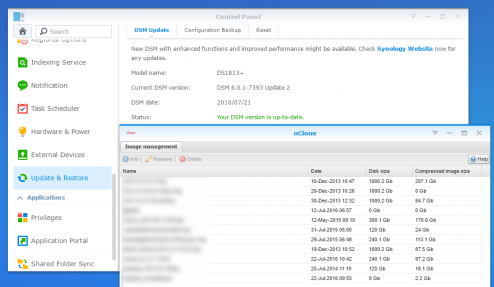 You can download it from the french website (or below from my website)
Download: http://www.nas-forum.com/forum/files/file/604-nclone-beat-5-dsm6/
Thread: http://www.nas-forum.com/forum/topic/52192-package-nclone-pour-dsm6-fonctionnel/
Because we don't all want to sign up to the forum and sometimes files disappear i have uploaded a copy below. Enjoy all.