This is just a capture of the now offline ct90-ct110.com customisation section detailing the seat modification.

Seat modification
Are you a tall CT'er?
Do you feel "close-coupled", where you always feel like your knees are too close to your chin and the handlebars are too close to your chest while riding?
Phil LaForce of Detroit, Michigan has designed a solution for this situation and his brother John LaForce did an excellent job of fabricating up the parts.
Here's Phil's description of what he did.
"I set about thinking how I might rectify the situation of being too tall to comfortably ride my CT, and I came up with the idea of relocating the seat up and back, somehow.
I took off the seat hinge bracket that bolts to the seat pan, and figured if I came up with a new hinge bracket that relocated the mounting holes, I could effectively move the seat up about an inch and a quarter, and back about an inch and an eighth.
I located some solid rubber bumpers (with a threaded stud molded into them) and bolted them to the seat pan, pretty close to the location of the stock suction cups, to keep the seat level when it's in the riding position. 
The results were just what I was looking for.
The seat is solid as a rock and it stays down on the trails. All in all, it's in a much better location for me now. When the seat is down, a casual observer would be hard pressed to know it wasn't in the factory stock position.
I've got to give credit to my brother, John, for his metal-working skills, as he's the guy who actually fabricated the hinge bracket for me. It pays to have a good millwright in the family "
These photos should help you duplicate the seat modification, so you'll feel more confortable when riding your CT.
Here's the factory stock seat height.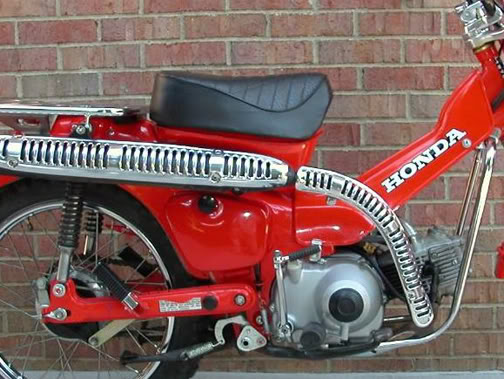 And, the factory hinge bracket and rear seat supports.
Here's the new seat hinge bracket.
The new rear seat supports.
And, the look of the seat modification in the riding position.