This is just a capture of the now offline ct90-ct110.com customisation section detailing the Crankcase Breather modification.

It's important to note that these are NOT step by step instructions that you can follow. This web page is only here for showing you what someone with specific skills can do to customize their CT.
If you do NOT think you have the same specific skills, do NOT try to complete the described customization.
In the end, it is your sole responsibility if you decide to undertake the work required to attempt to duplicate a described customization.
Crankcase Breather
Do you feel the need for having a crankcase breather on your CT?
When adding in a big bore cylinder & piston kit, an aftermarket performance cam and a few other engine customizations to produce more horsepower,adding in a crankcase breather would be wise, maybe even mandatory.
Gary Kane of Point Fermin, California has completed a crankcase breather.
Here's Gary's description of what he did.
CRANKCASE BREATHER
As far as I was able to determine, no one makes an crankcase breather filter kit for the CT90. I wasn't about to let a little thing like that stop me, so, I decided to fabricate my own.
 
The crankcase breather with filter was made by simply drilling and tapping the intake (top) valve adjustment cover, as it can be easily removed for the operation. I milled any interior protruding adapter material to insure non-interference with the intake tappet.
A short piece of hose connects to the K&N filter. A piece of 1/8″ x 1″ aluminium flat stock was used to attach the filter to the left side of the oil cooler (another customization), as seen in the photos below. If you want the crankcase breather and you are NOT doing the Oil Cooler customization, then your mounting of the filter will need to be figured out.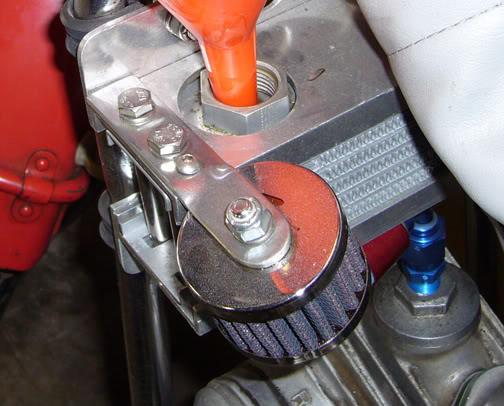 CrankCase Breather, Filter and Plumbing Parts List:
One – K&N Vent Filter, K&N #62-1090.
One – AN6 to 1/4″ NPT adapter, Earl's #981606ERL, for the intake valve adjustment cover.
One – AN6, 90 degree Super Stock hose end, Earl's # 709167ERL, to point the hose to one side.
One Foot – AN6 Super Stock Blue hose, Earl's # 790006ERL
While at Earl's store gathering up the parts, I picked up a copy of their Performance Plumbing Catalog. It is full of usefull perormance plumbing information, especially the "Assembly Instructions" in the Technical Section.
Results:
So far I haven't noticed any oil mist or drool on the CT or on my left leg.